Phil Stormer is a guitarist and musician hailing from the Blue Mountains, just West of Sydney. Phil's style can best be described as solo, acoustic, "fingerstyle" guitar.
This is the style made famous by the likes of Tommy Emmanuel, Chet Atkins, Merle Travis and Jerry Reed. Fingerstyle or Fingerpicking is a way of acoustic guitar music that uses the fingers of the right hand to play the strings rather than a pick.
The style of music varies greatly and encompasses classical, flamenco, blues, folk and just about any other style.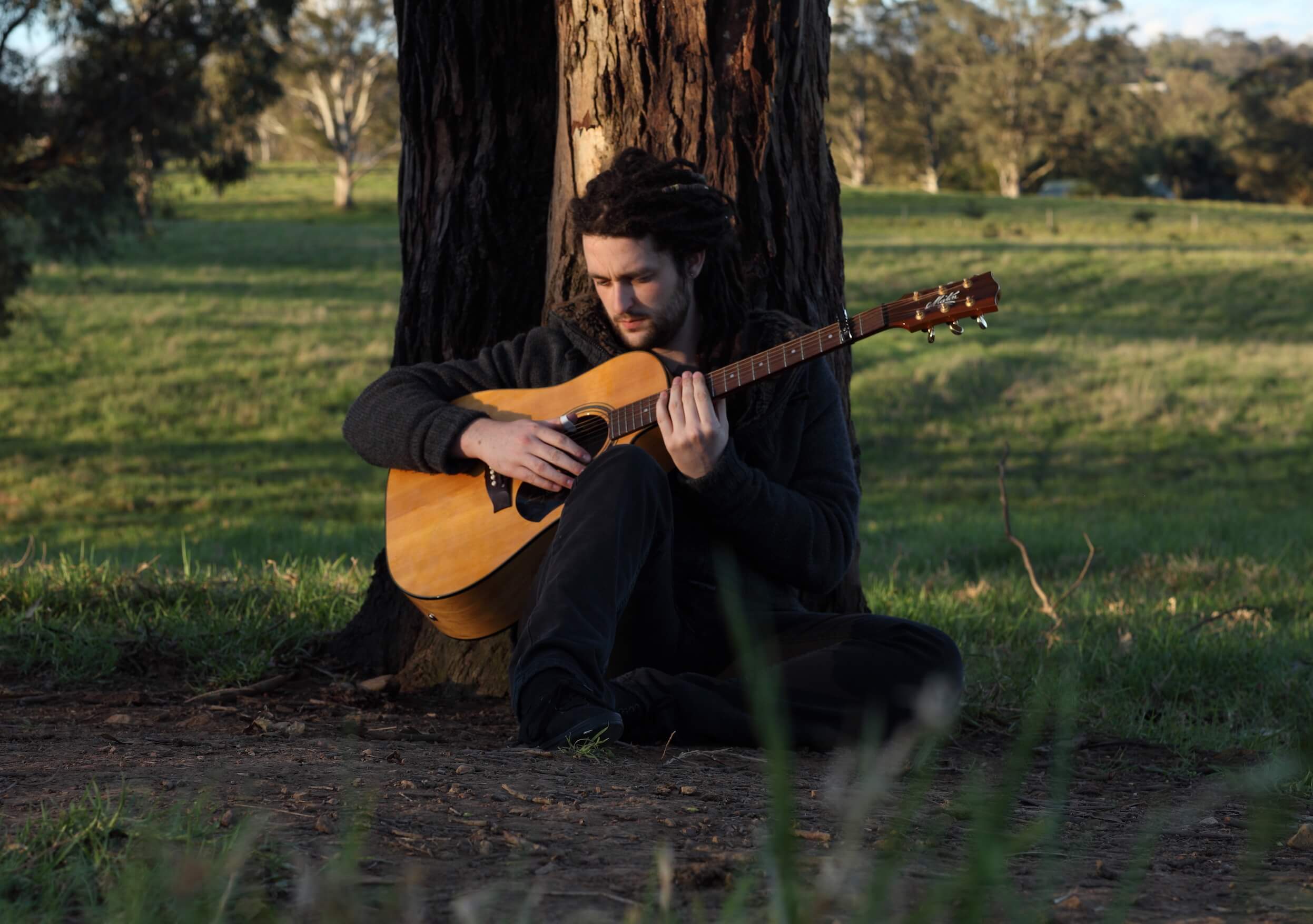 Playing music for over 20 years, Phil has achieved alot and with that usually comes a lot of questions, here is everything you need to know:
Discography
Light & Shade 2011
"Light & Shade" is the third full length album featuring the solo guitar artistry of Phil Stormer. The 12 track collection canvases an amazing spectrum of sounds, from a fiery Celtic reel in "St. Albans" through to a delicate tune in "Understated", out to "Too Cute" a cheeky, and just fun number. Each track an original and in each their own way just beautiful, both guitarists and those with an ear for good music will love this album.
These Hands 2009
"These Hands" is the 2nd full length album by acoustic guitarist Phil Stormer. From the most intense and passionate through to the most peaceful, this album is a divine collection of solo guitar artistry. The music is raw and unaccompanied but with slick production value and quality, showcasing the fine work of this young man from the Blue Mountains.
Moods and Moments 2007 
"Moods and Moments" is the debut full length release for Phil Stormer. A collection of gentle and reflective tracks meant for easy listening. Perfect for background music, or for a refreshing change of pace, sweet acoustic guitar sounds from a fine songwriter and musician, lovely stuff.
How long have you played guitar?
For over 20 years, professionally for about 7 of those.
Do you sing?
I do sing, however I don't have a strong enough voice to sing professionally.
How much do you practice?
That really depends on what is going on around me. If life is busy, sometimes my practice time will really suffer. At other times if I have a big gig or event coming up I will practice hours every day to get ready. That being said I try to practice every day – in fact I miss it when I don't.
Do you play classical guitar? Are you a classical guitarist?
When I first started guitar lessons it was in classical guitar and I studied it for many years, however in my teens I relaxed my technique a fair bit and began to explore other styles. So I am able to play classical guitar and music and absolutely love the style and it remains part of what I do, but not the whole thing.
Who are your biggest guitar influences?
There are so many musicians who have influenced me over the years, however for the sake of brevity the top three for me at the moment are Tommy Emmanuel, Buster B. Jones  & Tony McManus.
Do you play any other instruments?
Not very well, though I do like to pick up a Mandolin or Banjo every now and again.
What sort of music do you listen to?
Well firstly a great deal of guitar music I genuinely can't get enough of it. I will listen to just about anything, I love music in all of its colour and variation.
Are you signed to any label?
No I am independent of any representation and my three albums have been funded and released by me personally.
Do your songs mean anything?
Yes they do, very much so. Some are written about someone or something in particular or about a time or situation in my life, others have words, others are dedications or musical gifts to significant people in my world.
Cares deeply about his music, his work, his clients and audience. 
Overall, Phil is a dedicated, talented, established and professional musician who cares deeply
about his music, his work, his clients and audience. Phil's talent is rare and refreshing and his
music and performances are inspiring and truly entertaining.
You played a great part in the ceremony
I wanted to take this time and say a big & THANK YOU! you did a great job. I like the atmosphere you created for the moment. You played a great part in the ceremony.
Your musical arrangements bring sensitivity, imagination, colour and emotion to life
"Your musical arrangements bring sensitivity, imagination, colour and emotion to life. We couldn't have picked a better musician to play on our special day."
© 2019 Phil Stormer All Rights